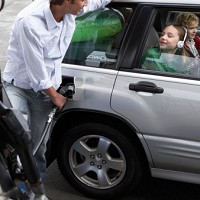 The cost of fuel is still a major concern for drivers even though leading superstores have lowered prices at the pumps, according to a new study.
The top five motoring cost concerns, in order, are revealed to be fuel prices, road tax, insurance, maintenance and service, and parking.
With the country still in an economic downturn, car owners are anxious to be able to budget for their vehicles and cover essentials such as car insurance and breakdown cover .
The BCA study found that three quarters of used car buyers say the price of fuel is their main worry among overall driving costs, with more than a third feeling frustrated by Government 'inaction' over tackling the price of fuel.
March's survey also found motorists are acting themselves to cut costs, with 29% revealing they now make just vital trips such as school runs, shopping for food and going to work.
More than 50% use the car less for non-vital travel, 20% made more use of public transport and 23% walk more than they used to.
However, three quarters of motorists drive daily and a fifth expressed particular concern over rising costs as they relied on cars for work.
Copyright Press Association 2013