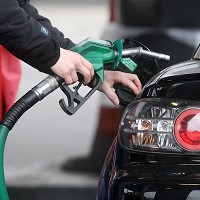 Motorists in the UK are saving up to £6 when they fill their petrol tank compared with two months ago, according to a survey.
The average price charged for unleaded petrol is said to have fallen 4.5% since March, although significant price variations were recorded.
In some areas of the UK, owners of vehicles such as people carriers are still paying around £95 to fill their tank, according to the survey by Santander.
The bank said it looked at the price of a litre of petrol in every town in the UK.
The most expensive place to buy fuel is Taunton in Somerset, where the average cost of a litre is 136.9p, it said. This means a total cost of £95.83 to fill a 70-litre tank with petrol.
The least expensive petrol was found in Carlisle which had an average of 129.7p a litre, meaning £90.79 for 70 litres, Santander said.
Santander Cards chief executive Alan Mathewson said: "Spiralling fuel prices in the past 12 months have hit motorists hard, with some families paying more than £100 to fill up the tank of a family car.
"However, our latest fuel survey gives motorists some temporary relief with decreases of up to 7% in just two months."
Copyright Press Association 2013