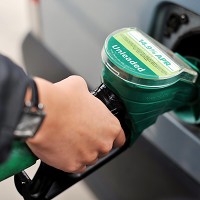 Motorists paid by far the largest share of 'green taxes' in Britain last year, according to official data.
Environmental levies raised £43 billion for the Treasury last year; £1.7 billion more than in 2012 and around £12 billion more than a decade ago.
Of the £43 billion total, £26.7 billion came from taxes on fuels including petrol and diesel, compared to £22.5 billion a decade ago.
In the 10-year period the Treasury's income from diesel has soared, while it received less tax for petrol as drivers cut back on their fuel spending or switched to diesel cars in a bid to save money.
Other taxes from transport made £5.6 billion in 2003, but the figure for last year is almost double that, at £10.3 billion.
This is largely because of vehicle tax band changes and higher tax revenues from air travel.
Hypothetically, the Treasury received £1,629 on average in green taxes from every household in the UK in 2013. However, the ONS said that the majority of the bill was paid by businesses, not domestic consumers.
Copyright Press Association 2014