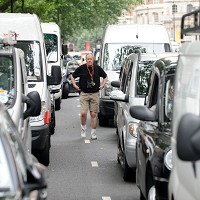 The Freight Transport Association (FTA) has criticised the Scottish Government's plans to create low emission zones (LEZ) across the country.
The proposals would allow city councils to set up LEZs within two years - faster than in any other country in the European Union.
Companies and motorists would have too little time to switch to a green alternative if the proposals go ahead, according to the FTA.
Christopher Snelling, head of urban logistics policy at the FTA, said the proposed timescale was the biggest concern the group had with regards to the plans.
He said air pollution has already been reduced significantly in the past few years, due to improvements in van technology and the introduction of the EU's Euro engine standards.
The plans call for motorists to be given enough time to "ensure compliance" before the LEZ is set up, Mr Snelling said, but added that the notice period of two years was far too short - especially when compared to the seven years' notice given to Londoners before the implementation of the Euro VI LEZ.
He said the notice period must be increased in order to avoid putting city centre businesses at risk.
Copyright Press Association 2015