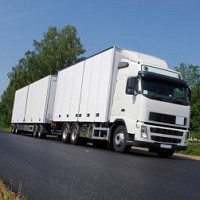 Logistics leaders have hit back at claims that trucks are bringing mayhem to the country's villages.
The Local Government Association (LGA) had called for greater powers to be devolved to local authorities to help combat lorry drivers who break width and weight restrictions .
The Freight Transport Association (FTA) countered that local councils would be ill-equipped to take on such responsibilities. It said that the majority of HGV drivers already avoid villages if their vehicles breach width and weight restrictions in place.
The FTA's Christopher Snelling, who is responsible for urban logistics, said: "Transferring responsibility for policing these restrictions to local residents would be fraught with problems because most would not have the relevant knowledge to make judgements."
Mr Snelling said that the association totally backs such restrictions and regularly updates members on latest regulations and innovations.
But he added: "Weight limits are not HGV bans and residents may not understand different sizes of trucks. Also, most weight restrictions are on an 'except-for-access' basis - some HGVs may be making legitimate visits to local business or indeed residents, such as home removals or washing machine deliveries."
Mr Snelling says the delivery of supplies to village pubs and shops, or heavy furniture or groceries to properties are priorities.
The LGA's call for ministers to give councils enforcement powers on HGVs illegally travelling through villages came after what it called a "spate" of HGV accidents in rural areas.
But the FTA said that the few examples the LGA quoted did not amount to a "spate".
Mr Snelling continued: "The logistics industry is working hard to reduce the problem of HGVs using inappropriate routes, such as HGV-specific sat navs that are now on the market."
The majority of operators complied with the regulations and the "handful" who failed to do so should be dealt with and detected, he said.
His association also contradicted LGA-quoted statistics which claimed that over half of motorway fatalities involved lorries. The FTA insisted that this figure was, in fact, under one in three motorway deaths.
Copyright Press Association 2015