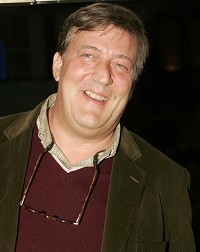 Stephen Fry has topped a list of celebrities that British motorists would like most for a driving companion.
The comedian and broadcaster got more than a quarter (27%) of all votes in a survey by the AutoTrader website.
X Factor's Cheryl Cole was the second most favourite with a fifth of the votes, ahead of other female celebrities like Holly Willoughby (11%) and Fern Britton (9%). Perhaps unsurprisingly she was more popular among male motorists, 28% of whom voted for her compared to 16% of female drivers.
Cole's acerbic fellow judge Simon Cowell, with 13% of votes, was the second favourite male driving partner. He was especially popular among women, a fifth of whom chose him. Russell Brand was third with 14% of votes.
Psychologist David Moxon said: "As cars and driving are often perceived as a masculine, macho pastime, it's not surprising that males chose an attractive female to have as a passenger.
"The fact that Stephen Fry however tops the poll for both men and women suggests that people prefer to liven up journeys that might be quite tedious and boring with some witty conversation."
Copyright © Press Association 2009