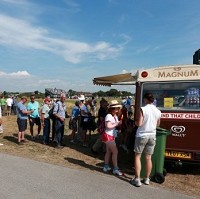 Motorists who have enjoyed taxi drivers' tans during this month's heatwave should brace themselves for torrential rain and thunder, forecasters are now warning.
The Met Office has issued a weather warning rated yellow for South-Eastern parts of the country on Tuesday (July 29).
This means conditions will be considerably more hazardous than normal with prudent drivers advised to check their breakdown cover .
The weather bureau says that drivers can expect torrential rain here from 1am right through until 7pm.
Further showers, heavy rain and sunny spells can be expected in the days ahead with maximum temperatures pegged at about 24C (75F), it says.
Weatherwoman Helen Waite is predicting "intense downpours and thunder" with temperatures not as hot as they have been.
Northern England is likely to see some of the drier weather until Tuesday when the South will see the best of the conditions.
Much of the UK should experience unsettled conditions towards Friday which will carry onto through the weekend.
Copyright Press Association 2014