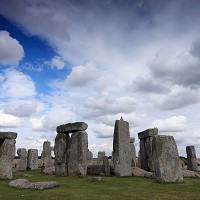 The Government should consider tunnelling under Stonehenge to help boost the economy, according to the director general of the CBI.
John Cridland says the World Heritage site in Wiltshire is a significant barrier to cutting congestion on the A303, a busy route taking traffic from the south west of England towards London.
He told the Press Association that going under Stonehenge is the way forward because of the difficulties in bypassing it.
The idea is not a new one. Seven years ago it was deemed too expensive but a working group is again investigating ways to avoid bottlenecks on the route that runs from Devon to Hampshire.
The Chancellor is expected to announce an A303 upgrade project in his Autumn Statement on December 3. The CBI wants Mr Osborne to invest heavily in Britain's infrastructure.
Stonehenge continues to prove a big draw for tourists from home and abroad. It now boasts a new visitor centre and a road close to it has been closed. The landmark and the importance of the A303 means it gets very busy at times, causing significant traffic jams.
Copyright Press Association 2014