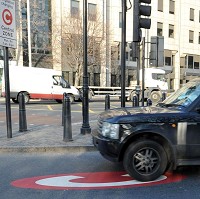 Commuters could soon have to pay 15% more to drive through the centre of London, it has been announced.
Transport for London (TfL) wants to raise the standard daily congestion charge from £10 to £11.50 and has begun a consultation. It is thought that other forms of payment could increase if the plan succeeds.
TfL says the charge has remained the same since 2011 and the extra money would provide it with an extra £84 million in revenue over the next four years. All of the money would be used to make improvements to the city's transport system, it promised.
As well as the increase to the daily charge, the autopay prices would rise to £10.50 from the current £9 cost and those that choose the option, currently more than 220,000, would be able to pay by direct debit. It will mean more expense for commuters and Londoners on top of costs of motoring, such as fuel prices andcar insurance .
RAC head of external affairs Pete Williams said: "A 15% increase in the congestion charge will significantly impact London motorists who already pay heavily for using their cars in the capital. At the current rate of £10 per vehicle per day the charge already acts as a deterrent to unnecessary journeys and this will be seen as just another way to extract cash from hard-pressed motorists.
"The charge has not increased since 2011 but then it jumped 25% from £8 to £10 which begs the question do motorists not deserve a more measured approach to increases? This is an above-inflation hike which will be felt more by those on lower incomes who are often more reliant on their cars for work and family life. This will also have a significant effect on small businesses which have no option but to drive into the capital."
It is important to gauge the opinion of Londoners and motorists on increasing the charges, but the changes would increase the deterrent to making car journeys in the capital, according to TfL's surface transport chief operating officer Garrett Emmerson.
Copyright Press Association 2014