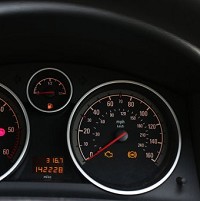 Car 'clocking' may never leave motorists out of pocket again, if a new campaign to end the fraudulent practice works.
Drivers pay out a combined £580 million every year on vehicles that have had their odometer altered to display false, lower mileages, according to the Office of Fair Trading (OFT).
Two leading motoring organisations are calling on ministers to put an end clocking in all of its forms.
Coming only 5 months after the RAC reported that clocking crime is on the increase, t he Retail Motor Industry Federation and National Franchised Dealers Association (NFDA) have come together to repeat its plea.
Fraudsters who change a motor's mileage are not technically breaking the law. But they must tell people buying a car from them that they have altered the odometer.
The campaigners wants action now ahead of planned EU legislation to ban mileage correction firms - including the estimated 70-plus in Britain - in the next three years.
Sue Robinson, director of the NFDA, says thousands more vehicles will have their mileage reading tampered with in this time, and is instead calling for a zero-tolerance policy.
She says the European plans are not comprehensive enough since there are other avenues drivers can take if they wish to alter their car's mileage. Ms Robinson believes clocking results in more unsafe vehicles on Britain's roads, as buyers are led to believe cars don't need servicing.
Clocking may conjure up images of car salesmen on TV, such as The Fast Show's Swiss Toni, but the practice is more common in real life, she says.
Back in April, car trade information company Glass's reported that the practice is on the rise in April.
RAC spokesman Pete Williams said at the time: "Given it's unlikely the buyer can know if a car has been clocked or not, it is sound advice to get a full history check on the vehicle and ensure it is regularly serviced.
"Action needs to be taken on companies actively offering clocking services so this practice is stamped out once and for all."
Copyright Press Association 2015
https://www.gov.uk/government/organisations/office-of-fair-trading (Office of Fair Trading)