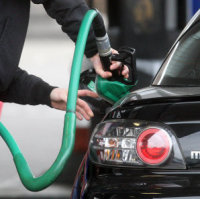 The worsening fuel shortage situation in France has prompted the RAC to issue advice to British motorists.
Drivers planning to visit France or hoping to travel home to the UK are urged to ensure they have enough petrol or diesel before attempting their journey.
The warning comes as the worsening situation on the other side of the Channel has resulted in some filling stations closing or imposing rationing.
Simon Williams, the RAC's fuel spokesman, says: "Anyone currently in France is going to struggle to find fuel for their return journey and probably shouldn't even attempt to get home unless they can do so on one tank. We suspect finding somewhere to fill up in the worst affected areas will be extremely difficult.
READ MORE: General advice for driving in France on our advice page
"If you are just about to go to France, you should fill up in the UK before your crossing to give you the best chance of reaching your destination in one go.
"If you are travelling a very long distance you will obviously need to refuel which could mean a long wait at a service station due to rationing in some areas. Motorists should also be very mindful of not running out of fuel and finding themselves stranded."
While the shortages - caused by industrial action - initially seemed to be confined to northern France, the RAC says it is now receiving reports of problems in central, western and southern parts of the country.
The motoring organisation says it will continue to monitor the situation for its members in Europe.
But it says while it was able to help a number of RAC members find fuel in France last week, the worsening situation means that is no longer possible.
Copyright Press Association 2016. Motoring News articles do not reflect the RAC's views unless clearly stated.