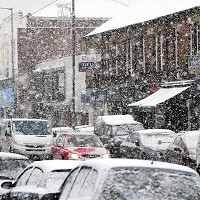 In stark contrast to the wet and windy weather at the beginning of this week, some parts of the country are expecting to see a light dusting of snow over the weekend.
Up to 4cm of snow and a dip in temperatures to -5C is forecast in some areas, with particularly crisp and dry conditions seen in higher areas. The Pennines, the North Yorks Moors and north east Scotland are bracing themselves for a blanket of white on Saturday morning, with a covering of between 2cm and 3cm expected, creating hazardous driving conditions.
In addition to the snow, a widespread frost is predicted with temperatures expected to drop well below freezing overnight. An increased risk of ice is inevitable with temperatures of -5C expected.
The severe cold snap and icy conditions are predicted as "90% probable" to last until the midday on Sunday by the Met Office, who have warned that the weather could increase the health risks to vulnerable patients and disrupt delivery of services.
Stephen Davenport is a forecaster for MeteoGroup, the weather division of the Press Association, and he claims a front of rain is moving south bringing wintry conditions with it. "There's going to be a mixture of rain, sleet, hail and snow showers," he said "In the northern parts of the country, over the hills, there will be a 2cm to 3cm covering of snow with up to 4cm in some spots."
Copyright Press Association 2012