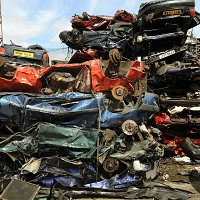 Thousands of motorists struggling to dispose of their old cars are to be given a helping hand.
Getting rid of unwanted vehicles responsibly can be difficult, especially if the manufacturer is no longer operating in the UK.
Around 700,000 of these so-called orphan vehicles exist nationwide, built by a brand that has ceased trading and has no parent company.
To address the problem, the Society of Motor Manufacturers and Traders (SMMT) has teamed up with recycling company Autogreen to offer a recycling service.
The new scheme will take back end of life vehicles free of charge, no matter where the owner lives in the country.
SMMT chief executive Mike Hawes says all motorists can now be assured their vehicle will be disposed of in a way that is ecologically sound and cost-free.
He claims the new partnership is further evidence of just how seriously UK vehicle manufacturers take their environmental responsibilities.
Manufacturers across the country already offer the service free of charge, as agreed under the End of Life Vehicles Directive, which states that when cars and vans up to 3.5-tonnes reach the end of their lives, they must be disposed of in an environmentally responsible way.
But owners of orphan vehicles, especially those in rural areas, have previously found it difficult to find a licensed scrapyard.
Copyright Press Association 2016. Motoring News articles do not reflect the RAC's views unless clearly stated.