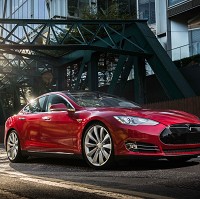 Holidaymaking motorists who've made the switch to electric are being offered a new, free airport car parking and shuttle service.
The service is being provided at Tesla's new dealership near Heathrow.
It means drivers of a Tesla Model S can arrange secure parking at the firm's West Drayton centre before being whisked off to the airport in another electric car.
While motorists are away they can opt to have their car serviced or valeted and on their return to Heathrow they'll be met by staff for the shuttle journey back to West Drayton.
George Ell, UK director for the US-based electric car manufacturer, says the location of Tesla's new West London dealership and service centre makes it ideal for the new initiative.
Future Tesla buyers will continue to be offered the free service.
Tesla's chief executive officer, Elon Musk, recently pledged that a new network of superchargers will always be free for Tesla owners.
Copyright Press Association 2014