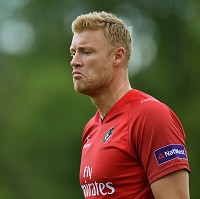 A magistrate has spared Andrew "Freddie" Flintoff a driving ban for a speeding offence - after the cricketer pleaded "exceptional hardship".
Former England captain Flintoff, 36, had admitted being the driver when his Bentley was flashed by a camera as travelling at 87mph on the M6, near Linstock, Cumbria, on January 28 this year.
Carlisle Magistrates' Court heard that Flintoff, of Mottram St Andrew, Cheshire, was in danger of getting an automatic driving ban with another three points as he already has nine points for speeding.
However, solicitor Michael Neofytou convinced JPs that a ban would amount to exceptional hardship as it would affect the privacy of Flintoff's three children and others who rely on his charity work.
Flintoff was fined £330 and had another three points added to his licence, but was given leave to continue driving.
However, the millionaire was also warned that he would not be allowed to cite extreme hardship as a reason if he were caught speeding again at any point in the next three years.
Copyright Press Association 2014