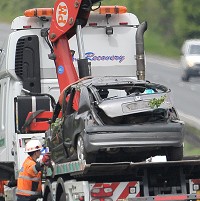 A new insurance scam dubbed "flash for cash", where criminals flash their lights to let a motorist out at a junction before deliberately crashing into them, has been highlighted by fraud investigators.
The tactic can net gangs tens of thousands of pounds through false personal injury claims, billing car insurance firms for loss of earnings or submitting fake bills for vehicle storage, recovery, repairs and replacement car hire.
Meanwhile, innocent drivers are being put at risk of serious injury and even death.
Scammers tend to target vulnerable drivers who are not likely to put up a fight afterwards, according to the Asset Protection Unit, which works with the police and insurance industry to investigate fraud.
These can include elderly motorists or women with young children in the car.
Detective Inspector Dave Hindmarsh from the Metropolitan Police claims this is a growing problem that is costing the insurance industry and consequently the insurance-paying motorist, a huge amount of money.
Mr Hindmarsh told the BBC: "Financially it costs insurers £392m a year.
"That impacts on motorists as it's an extra £50 to £100 on every person's premium, so that's a financial cost."
Copyright Press Association 2013