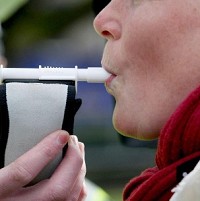 A forthcoming law in France requiring nearly all road users to carry a breathalyser kit has been postponed until next March, the Institute of Advanced Motorists (IAM) reported.
Drivers in France already have to carry high-visibility vests and warning triangles in case of emergency, and British cars and motorbikes must show a GB sticker or GB-badged number plate.
And since the summer, French police have been making drivers, especially those from Britain, aware of the coming change.
The new legislation will be one more preparation box for tourists to tick, on top of items such as European Breakdown Cover .
The law was due to be brought into force at the start of next month but was put back until March 1 and fines will not be issued to drivers without the kits until after then.
However, moped riders will stay exempt from the 11 euro fine.
The new rule is a bid to lower drink-related accidents, said IAM director of policy and research Neil Greig, who added that it was very easy to go over that limit even on the morning after, given the country's lower limit.
"As always, the best advice for road users is not to drink and drive at all," said Mr Greig.
The single and double unit kits, which meet legal requirements, cost less than £2.
Copyright Press Association 2012