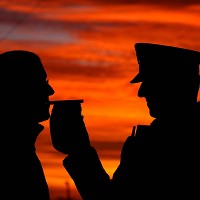 Plans in France to introduce fines for motorists that do not carry a breathalyser kit have been delayed indefinitely.
The announcement was made by the French minister of the interior due to a lack of kits available, although carrying a self-test breathalyser remains a requirement - there is just no legislation to enforce a fine for non-compliance.
A fine of Û11 (about £9.50) was to be introduced in March 2013, having already been delayed from November 2012.
All drivers in France, including motorcyclists, are required to carry a breathalyser kit, but the fine would not have been applicable to those on mopeds.
UK motorists and motorcyclists must display a GB plate if making the trip across the Channel, as well as carrying a warning triangle and fluorescent safety vest with them - a legal requirement in France.
In addition, Brits driving abroad should always check the details of theircar insurance policy before travelling.
Despite the indefinite delay on the introduction of fines for motorists that do not carry a breathalyser kit in France, the Institure of Advanced Motorists (IAM) suggests that visitors to the country should still take a breathalyser kit with them.
Copyright Press Association 2013