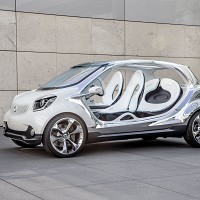 Smart has gone to a minimalist extreme with the four-seat Fourjoy concept car it is about to unveil at the Frankfurt Motor Show.
While Smart has previously specialised in compact two-seat models, the Fourjoy will not disappoint fans, as it is still a compact car with a length of just 3494cm.
The compact nature of the Fourjoy makes it ideal for city driving, as an incredibly tight turning circle of 9.1 metres means you can get out of most tight spots, with one eye on your car insurance premium of course.
Gordon Wagener, head of design at Daimler AG, said the Smart Fourjoy is the "perfect icon" for a new era of the Smart design philosophy, as it shows for the first time the brand has a sporty four-seater character.
He also added that the Fourjoy still enjoys the typical Smart silhouette, with the clear lines and styling that make it a "modern design icon".
Central to the Fourjoy concept is the fact that it has no doors, windows or roof, and so as much breeze as possible can circulate around the car. It also offers lounge comfort via a rear bench seat design.
The car is electrically powered via a motor with a battery that can be charged in less than one hour.
The polished Tridion safety cell that is a trademark of all Smart models is also present on the outside of the Fourjoy.
The windscreen's wind deflector and the door pillars are constructed from transparent plastic panels, while the minimalist bodywork is contrasted by the pearlescent paint on the bumpers.
Copyright Press Association 2013