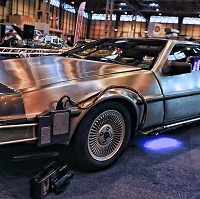 The DeLorean from Back to the Future and Mr Bean's Mini Cooper are among the four-wheel stars rolling into Birmingham's NEC this weekend.
Iconic cars from film and TV, including Steve McQueen's Ford Mustang and the Dodge Charger from the 1968 Hollywood blockbuster Bullitt, will be exhibited for the Classic Motor Show.
The exhibition centre will be turned into a petrol head's Shangri-La between 14-16 November, as around 250 of the UK's best motoring clubs show off their prized assets from movies and television series gone by.
Fans will have the chance to get up close with the Cadillac Miller Meteor ambulance that became ECTO 1 in Ghostbusters, plus the Pontiac Trans Am that transformed into the Knight Industry's Two Thousand, or KITT, in Knight Rider.
The orange Adams Probe 16 from A Clockwork Orange and the military vehicles from Dad's Army will be on display in all their glory as well, not to mention the legendary white Volvo P1800 belonging to The Saint.
A number of automakers, including the likes of Porsche, Vauxhall and Jaguar Heritage, will also be on hand to turn back the clocks and take car enthusiasts on a journey of exploration through their rich histories.
Copyright Press Association 2014