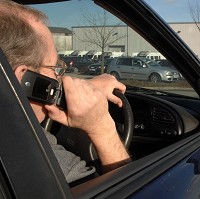 Most UK motorists have broken the law while behind the wheel at some point over the past year, according to a new survey.
The research by car leasing firm Flexed found that nearly four in five drivers (79%) had committed a motoring offence in the past 12 months, such as talking on the phone or driving with bald tyres.
Mobile phone offences were the most common illegal activities committed by drivers at 37%, followed by speeding at 32%, illegal parking at 25% and driving without a seat belt at 19%.
Around one in six (17%) said they have run a red traffic light, one in nine (11%) admitted to drink-driving and one in 11 (9%) have driven on worn tyres.
Driving with an expired tax disc came next at 7%, followed by driving without a valid MoT (6%) or without valid car insurance (6%), while 1% admitted to leaving the scene of an accident.
Mark Hall from Flexed said it was frightening that 11% of drivers admitted to drink-driving, and the thought that many drivers could be uninsured was "sobering".
Copyright Press Association 2014
Copyright Press Association 2014