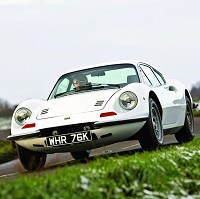 An admission that a car is rusty and needs major restoration work is normally a clear signal to would-be buyers to either steer clear of it or drastically lower their offer.
But a sale notched up by Silverstone Auctions suggests that is far from the case when it comes to Ferrari Dinos.
The state of its bodywork and need for repair seemed to have no impact when a rusty 1973 Ferrari Dino was sold for around £132,500, demonstrating that even those in poor condition are much sought-after.
Meanwhile, those in better condition command even higher prices; a recently-restored 1971 model having sold for more than £250,000 at the same auction.
And age was no barrier to a pair of Porsches which their vendors put in the hands of Silverstone Auctions.
A 1973, 911 S 2.4 Targa attracted a top bid of more than £105,000 while a 1989, 911 930 Turbo went for £92,000, outstripping its lower estimate by almost £40,000.
Copyright Press Association 2014