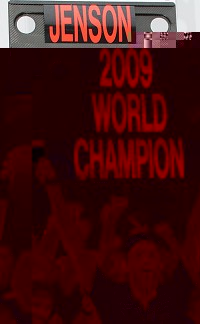 Jenson Button became the 10th UK driver to take the Formula One world championship title after finishing fifth at Interlagos, Brazil.
The 29-year-old secured enough points to inherit the title from last year's winner, Lewis Hamilton, after completing 71 remarkable laps at the Brazilian Grand Prix.
As Button crossed the finish line, he exclaimed: "We're champions, we're champions".
Button, who has experienced mixed fortunes in his career told the BBC: "It's really amazing, especially after the last few races I've had. This one makes up for it. It was just such an awesome race and I'm world champion, baby."
Describing his win as "the most amazing day" and thanking his fans, his family and his girlfriend, Jessica Michibata, the Brawn driver said: "Twenty-one years ago I jumped in a car and I loved winning. I never expected to be world champion because you think racing drivers in Formula One are different to you but we've done it."
Northamptonshire-based Brawn GP's boss Ross Brawn broke down in tears following the team's victory.
Thanking the team, Brawn said: "It's still got to sink in. It will take a while ... It's just special. Very special."
Copyright © Press Association 2009