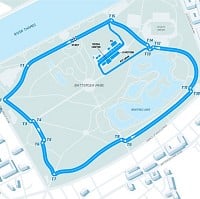 London is to host two Formula E races over an action-packed, adrenaline-fuelled weekend this summer.
Battersea Park will be turned into a 15-turn, 1.8-mile circuit fit for the fastest electing racing cars in the world.
Formula E is the first fully-electric racing series. The new FIA single-seater championship began in Beijing in September 2014, where it proved a tremendous success with racing fans, and will run until June 2015.
A total of 10 teams, each with two drivers, race on temporary city-centre circuits around the globe.
The all-important dates in London are June 27-28, making it the much-anticipated season finale.
Mayor Boris Johnson has given the green light to the proposals in the capital.
He claims it will be a superb addition to the city's sporting calendar that everyone can enjoy, plus add to the ongoing regeneration of Battersea.
The penultimate round will have taken place three weekends previously in Moscow, meaning the double-race around the popular beauty spot could decide who is crowned the winner of the drivers' championship.
Electric vehicles are becoming a popular choice in the UK. With the number of plug-in cars and vans nationwide now surpassing 25,000, it is clear that companies in particularly are taking their advantages on board.
Copyright Press Association 2015