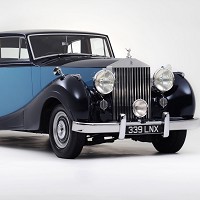 Classic car enthusiasts will get the chance to buy one of 26 Rolls-Royce cars owned by celebrated British comedy actor George Formby, when it goes under the hammer at the end of the month.
Ukelele-playing singer-songwriter and film star Formby became the car's first owner when bought the 1950 Rolls-Royce Silver Wraith from the Earls Court Motor Show that year.
The lot comes with a detailed history that reveals it was a well-loved family car for two decades.
It received a new engine in the 1960s before a stockbroker paid more than £80,000 for a complete restoration.
Rolls-Royce experts have kept the car - which has been used for weddings and Concours events - in an exemplary condition, so hopefully the new owner should not need to call upon his or herbreakdown cover provider after leaving the auction.
The Silver Wraith is expected to fetch around £40,000 when it is auctioned on Saturday, November 30.
Copyright Press Association 2013