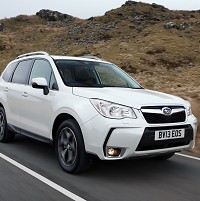 No other vehicle protects drivers and passengers from the effects of serious frontal crashes like the new Subaru Forester, according to safety experts.
The new car is the first vehicle to achieve top marks in the US Insurance Institute for Highway Safety's (IIHS) severe frontal crash test and the only small SUV to be given a "good" safety rating, the highest possible.
A breakdown of the test results shows that 11 of 13 SUVs are either rated "poor" or "marginal" for the protection they offer, but the Forester's performance is rated "good" and described as "textbook".
The IIHS small overlap front crash test involves a quarter of the front end of a vehicle striking a barrier at 40mph to show the effect of a collision with another car or immovable object like a telegraph pole or tree.
The Forester's structure, restraints and kinematics were all deemed to be good in the test, as were all injury measures to the male dummy in the driving seat.
It found that the dummy's movements were well shielded from contact with hard surfaces inside the car on impact.
Subaru has responded well to improving the safety of drivers in big frontal collisions, Joe Nolan, vice president for vehicle research at the IIHS, said.
The Forester has also been given the full five-star Euro NCAP crash safety rating, and 91% adult and child occupant scores, to reinforce the fact that it is one of the safest cars on the market.
Copyright Press Association 2013