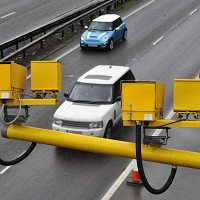 Motorists from overseas have escaped punishment for more than 23,000 cases of speeding since the beginning of last year, figures show.
The Institute of Advanced Motorists (IAM) made Freedom of Information requests to all the police authorities in England and Wales. It found that total fines for the 23,295 offences which went unpunished would have amounted to £2.3 million if collected.
Foreign speeders don't receive tickets because they are not on the DVLA database.
No police authority had more cases of speeding involving foreign drivers than Thames Valley. There were 3,580 such instances that weren't followed up; the worst of which was a vehicle spotted driving at 102mph.
There were 2,477 speeding offences involving foreign drivers in Merseyside; 2,152 in Warwickshire and 2,090 in Gwent.
The fastest speed was recorded in Kent, which was fifth on the list with 1,954 unpunished speeding offences. A foreign driver was caught doing 111mph on a 70mph route in the county.
More and more foreign drivers are using UK roads so it is crucial that Britain can access the motoring records of other European nations to punish those who drive dangerously, according to Neil Greig, the IAM's director of policy and research.
Copyright Press Association 2014