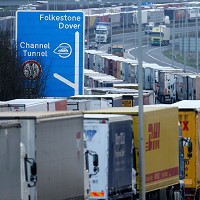 Ministers have announced plans to charge foreign lorries up to £1,000 a year to use British roads, in a bid to boost the domestic haulage industry.
The levy will also apply to British-based lorries, but this will be counterbalanced by a cut in vehicle excise duty to maintain tolls remain the same.
The initiative hopes to create a "level playing field" for British hauliers, who have to fork out similar amounts to use roads on the continent on top of rising fuel costs andEuropean breakdown cover .
Consultations on the plans began earlier this year and the Government will draft the legislation when Parliament returns next month, with an eye on bringing it into operation as soon as possible.
Transport secretary Patrick McLoughlin said: "These proposals will deliver a vital shot in the arm to the UK haulage industry.
"It is simply not right that foreign lorries do not pay to use our roads, when our trucks invariably have to fork out when travelling to the continent.
"By introducing charges we will create a level playing field, increasing UK competitiveness and boosting growth."
Copyright Press Association 2012