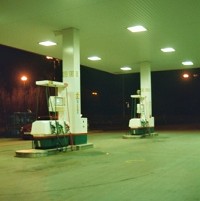 The number one aggravation for customers at petrol station forecourt shops is bad lavatory facilities, a new survey has shown.
Wholesaler and supplier Palmer and Harvey conducted the survey and found that poor hygiene was the main problem, and more than half of the 1,000 people questioned also said they hated having to ask for the key to the loo.
Actually finding petrol station toilets clean was the experience of only 23%, while only 17% always found them fully stocked with essentials such as toilet rolls, towels and soap.
Other major gripes uncovered in the survey were the cost of products on sale, with 56% believing they were too expensive and 28% saying that the queues were too long.
A few years ago it didn't take as long to fill up, according to nearly all those surveyed (98%), and one in five were more specific, claiming it now takes five minutes longer to complete the whole transaction than it used to.
Future considerations for customers include a desire to pay for petrol at the pump itself, rather than having to go inside to the shop (83%), and more parking spaces for general shoppers not wanting fuel was on the wish-list for 78% of those surveyed, with accidents in petrol forecourts due to lack of space a regular feature of car insurance claims.
Copyright © Press Association 2012