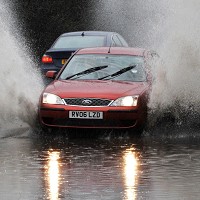 An already-soaked England and Wales should be braced for "further rain to come", a forecaster has warned.
MeteoGroup weather company forecaster Tom Tobler admitted January has already been "very wet" and revealed that twice the average rainfall is expected to be recorded at the month's end.
He said: "The rainfall across the UK has been higher than average due to the weather patterns, with low-pressure systems coming from the west."
The 30-year average rainfall across England and Wales is 90mm for January, he added.
With the weather set to remain "unsettled", motorists, in particular, are being warned to be extra careful on wet, spray-laden roads.
Potentially "heavy rain" is expected in northern and western parts of the UK as well as on the tops of Scotland, Wales and England by the end of the week.
"It will be further rain to come, I am afraid," Mr Tobler suggested.
Copyright Press Association 2014