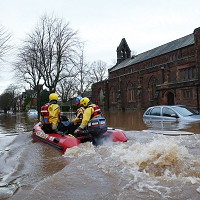 Motorists in northern England and Scotland are being told to expect further bouts of heavy rainfall this week.
Large parts of the country are feeling the effects of Storm Desmond, which has left roads submerged and homes flooded.
Cumbria is one of the worst hit areas. The county declared a major incident, while the Army was deployed in Carlisle to help support emergency services as they rescued people from the rising waters.
"The situation in Cumbria in particular has deteriorated rapidly with the arrival of Storm Desmond, and motorists are being faced with a large number of flooded roads," says RAC head of external affairs Pete Williams.
"If dangerous conditions persist, we are urging drivers to consider if they really need to make a trip out. Even when the rain does stop, the risk of flooding will remain so the prospect for disruption will continue at least until the end of the weekend."
The Met Office has issued yellow weather warnings and forecast persistent rain in the county for the rest of the week.
Figures from a rain gauge in Honister, in the Lake District National Park, show that a record-breaking 341mm of rain fell in just 24 hours.
"Elsewhere conditions are extremely difficult with high winds and torrential rain in the north of England and Scotland," adds Mr Williams.
"We would urge anyone driving to take extra care, reduce their speed and leave plenty of space between their car and the vehicle in front. And be wary of strong gusts which can blow you off-course particularly when driving in exposed areas, on coastal roads and when overtaking high sided vehicles.
"Don't forget to take your mobile and allow extra time for your journey and be prepared to turn around and find another route if you encounter flooded roads. If it is difficult to judge the depth of water then do not proceed - cars are not waterproof and if water is sucked into the engine this can cause catastrophic and very expensive damage."
Copyright Press Association 2015. Motoring News articles do not reflect the RAC's views unless clearly stated.