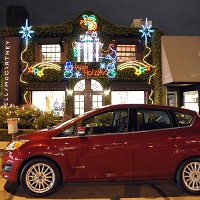 Ford is preparing to unveil a revolutionary solar-powered concept car capable of 100 miles to the gallon, which offers the same performance as a plug-in hybrid without the need for a plug.
The C-Max Solar Energi Concept car was revealed at the International CES gadget show in Las Vegas.
It comes with a petrol engine that combines with a gadget that concentrates the sun's rays through roof-mounted solar panels.
Ford claims the combined mileage for the hybrid engine will be around 100 miles per gallon.
The manufacturer estimates that by using solar power instead of an electric plug, annual greenhouse gas emissions will be cut by four tonnes.
Ford sold 6,300 C-Max Energi plug-in hybrid models last year, out of a total of 85,000 hybrid or electric vehicles.
Copyright Press Association 2014