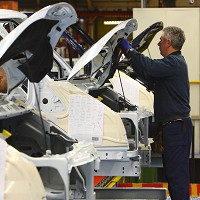 Workers at car manufacturer Ford are threatening to strike for the first time since the 1970s over a pensions dispute and will vote on industrial action.
According to Unite, the union representing 2,500 Ford staff, the dispute comes after plans to shut the final salary pension scheme to new starters and lower the pay rates were revealed.
Unite claimed this could result in the eventual shutting of the final salary pension scheme for all of the car manufacturer's employees.
National Unite officer Roger Maddison said: "Ford faces the very real prospect of the first strike since the 1970s. Unite will not stand by and allow Ford to create a two-tier workforce on pay and pensions. We urge Ford to return the negotiating table if it wants to avoid this dispute.
"We fiercely oppose the closure of Ford's final salary scheme to new entrants. This is the thin end of the wedge. Ultimately we believe Ford will try to close the entire scheme.
"To make matters worse, the company is trying to create a two-tier workforce by making new starters work for 10% less money for doing the same job as existing staff. This is totally unacceptable."
Copyright Press Association 2012