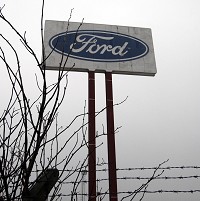 Ford has confirmed that it is to cut hundreds of jobs in Europe, including in the UK and Germany, after seeing demand fall significantly.
The US car giant said it does not yet know exactly how many workers will lose their jobs but the firm has revealed that its European operations could suffer losses of $1bn (£630m) this year.
The manufacturer has announced that voluntary deals will be offered to staff and that jobs for "agency workers and purchased service" will be cut. It confirmed that the number of salaried positions cut would be in the hundreds.
"Ford of Europe expects the programmes to result in the reduction of several hundred salaried positions, but exact figures won't be known for a few months," Ford said.
"Any Ford salaried staff separations across all three programmes will be purely voluntary."
There are around 15,000 Ford employees in the UK at plants in Southampton, Dagenham and elsewhere, and 67% of them voted in favour of industrial action in a May ballot in a dispute about pay and pensions.
The firm launched a host of new models, including upgraded versions of the Fiesta, Mondeo and Kuga, earlier in September in a attempt to boost its ailing European sales.
Copyright Press Association 2012