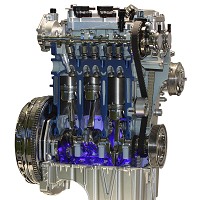 The International Engine of the Year award has gone to Ford's 1.0-litre EcoBoost petrol unit for the second time running.
The engine achieved the highest score in the history of the awards and was also named as 'Best Engine Under 1.0-litre'.
The three-cylinder engine allows for greater fuel economy as well as high performance in small and medium models such as the Fiesta, Focus, B-Max and C-Max.
More than two-fifths of European B-Max orders from the first three months of this year have been for cars equipped with this engine. Petrol engines such as the EcoBoost are seen as a cheaper way of driving powerful models, as emissions regulations begin to affect diesel particulate emissions across Europe.
The co-chairman of the awards and editor of the Engine Technology International Magazine, Dean Slavnich, said: "Baby EcoBoost - Ford's first-ever three-cylinder design - is still the engine to beat across the board.
"It's economical in real-world conditions while the compact turbo helps ensure that the entire package can power larger vehicles like the Grand C-Max with ease."
Copyright Press Association 2013