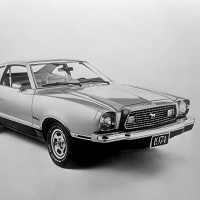 The Ford Mustang has been named the ultimate classic car for dads ahead of Father's Day.
It topped a list of the top five ultimate 'dad cars', which has been created by a car hire firm based on hire volumes and customer feedback.
The Corvette Stingray and the Jensen Interceptor took second and third positions in the league table compiled by Great Escape Classic Car Hire.
Finally the Jaguar Mk2 and the Ford Capri completed the list of cars which Graham Eason of Great Escape said are "great because they fly in the face of what your kids consider cool".
So the message to dads everywhere is simple: as you log on to yourjourney planner and plan the road trip of a lifetime in one of these cars, your kids might just be cringing at the mere thought of it.
However, the website said a car like the Mustang may be "as subtle as a sledgehammer" but that is the whole point, as "it doesn't matter what people think".
The top five 'dad cars' included in the list are purely indulgence and fun, Eason added.
Copyright © Press Association 2013