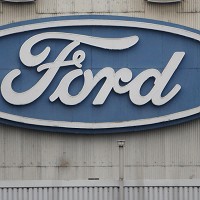 Car manufacturing giant Ford has bucked the current economic gloom by reporting its first earning growth in more than a year.
America's second-largest carmaker said it was mainly down to its US "cash for clunkers" scheme allied to cost-cutting measures.
Ford posted underlying pre-tax operating profits of $1.1 billion (£672 million) for the three months to the end of September, 3.9 billion dollars (£2.4 billion) higher than a year earlier.
The group's key North American division also returned to the black for the first time since the first quarter of 2005.
The firm - which employs around 35,000 people in the UK across its operations and dealerships - is benefiting from the US government's scrappage scheme to encourage sales of new cars.
It cut costs by $1 billion (£611 million) during the quarter, having slashed jobs across the US and Europe, which offset an $800 million (£489 million) drop in sales.
Alan Mulally, Ford president and chief executive was understandably upbeat about the upturn in fortunes and said: "Ford is making tremendous progress despite the prolonged slump in the global economy."
Copyright © Press Association 2009