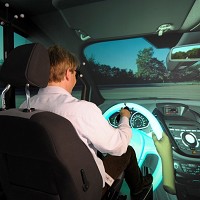 Augmented reality is helping Ford increase the speed with which it can develop new prototypes, without having to test them in the real world.
A 3D CAVE, which is based Germany, allows the car maker to try out and refine thousands of details of new car designs, ranging from the size and position of a cup-holder to rear-window visibility.
Engineers sit in a dummy car interior as vehicle 3D simulations are projected onto the ceiling and three surrounding walls. Wearing special polarising glasses and monitored by a motion-detecting infra-red system, they test a variety of features by interacting with the virtual vehicle.
An animated external environment with pedestrians and cyclists also helps engineers to assess visibility of the outside world from inside the car.
"We can now conjure up a car in the digital world, and then actually get in and experience it," said Michael Wolf, virtual reality supervisor for Ford's European arm.
"We still rely on the know-how and imagination of our prototype engineers to bring designs accurately to life, but now they have at their disposal a much more sophisticated tool to do so."
Copyright Press Association 2013