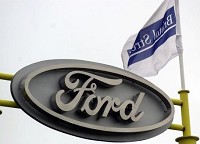 From next month, Ford is to increase the UK prices of its new vehicles by an average of 4%, the motoring giant has announced.
The rise - which the company blamed on the weakness of the pound against the euro - will see the list price of a Ford Fiesta increase by around £600 and a Focus or Mondeo by about £650.
Ford, Britain`s biggest-selling car company, has implemented one price hike already this year, when it increased prices by an average 3.5% on April 1.
Nigel Rees, Ford of Britain managing director, commented: "We don't like introducing price rises but we really don't have any alternative.
"Since 2007, the pound has dipped 25% in value against the euro and this is making a huge difference to our operations. Sadly, we had to introduce voluntary redundancies this year but there is only so much cost-cutting we can do."
In spite of the company selling around 1,200 to 1,500 under the Government`s new "cash for bangers" car scrappage scheme, Mr Rees added: "Ford Europe has lost a lot of money in the first three months of this year and we cannot continue to operate the business unprofitably."
Copyright © Press Association 2009