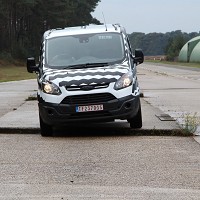 Ford has announced that over 16,000 Transit vans in Britain are being recalled due to a defective brake pedal fitting.
Some 16,312 Transits made between September 2012 and February 2013 are affected, the Vehicle and Operators Services Agency (VOSA) reports.
VOSA said the problem can be solved by the manufacturers installing a new 'R' clip holding the brake pedal pin.
The VIN numbers involved are WF0KXXTTPKBS86741 to WF0UXXTTPUBU75804.
Recently, the new Ford Transit Custom was put to a tough test by over 150 expert test drivers, in addition to client fleet drivers and Ford engineers, travelling a combined total of three million miles.
"I don't think many customers would believe what this vehicle has been through," commented Barry Gale, commercial vehicles chief engineer, Ford of Europe.
He said that Ford put the van through 'the worst possible treatment' in a test to prove the vehicle's durability.
Copyright Press Association 2013