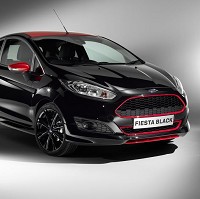 Ford has powered up its Zetec S range with two speedy little numbers that don't skimp on fuel efficiency.
The new Zetec S Red and Black models have an extra zip to them thanks to their 1-litre 138bhp turbo engine, an upgrade on the previous edition's 123bhp.
The new Ford editions can go from zero to 62mph in nine seconds flat, according to the manufacturer, an improvement on the last version which took 9.4 seconds to reach this speed.
Ford claims the new vehicle creates more power per litre than a Bugatti Veyron or a Ferrari 458 Speciale.
There has been no compromise on fuel economy though as Ford quotes figures of 63mpg and CO2 of 104g/km in laboratory conditions.
The souped-up models cost £15,995, which is £500 more than the original Zetec S.
As well as the new engine, the Zetec S Red and Black also have a stiffer rear axle and the power steering has been tweaked to provide more feedback.
Copyright Press Association 2014