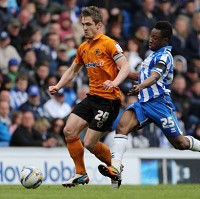 A personalised registration number is expected to attract bids of thousands of pounds from football fans at an auction later this month.
Supporters of Wolverhampton Wanderers will be vying to get their hands on the registration WO11 VES, which is the closest plate to the club's Wolves nickname.
The registration is among 1,500 personalised registrations being auctioned over three days from July 25 at the Heritage Motor Museum in Gaydon, Warwickshire.
Previous football related registrations have provided evidence to suggest that WO11 VES will fetch a handsome sum, with the reserve set at £1,000.
A Hull City fan paid £46,700 for HU11 CTY in March this year, while BO11 TON also went under the hammer for £5,500.
The most expensive football-related registration was bought by a West Ham fan in October 2007. The registration WE57 HAM eventually sold for £57,000.
Jody Davies, DVLA Personalised Registrations' Events Manager, said: "Football supporters are truly passionate about their clubs and many have gone to great lengths in the past to show their devotion by buying a personalised registration, hopefully, thanks to our WO11 VES registration, Wolves could well be elevated into our own Premier League of registrations we've sold!"
Copyright Press Association 2013