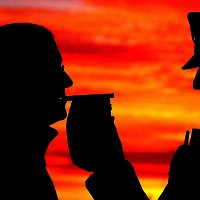 Real-life footage of an out-of-control driver has been used to promote awareness of the consequences of drunk driving.
An over-the-limit motorist was filmed as he crashed into a Devon pub, seriously injuring the landlord.
Devon and Cornwall police released footage of the crash as part of their annual festive season anti-drink driving campaign.
The initiative is aimed at lowering the number of people killed by drunk drivers on our roads.
Kevin O'Neill, who runs the Three Elms pub in Brixham, suffered a crushed pelvis, broken ribs and suspected spinal injuries after being hit by the vehicle while standing in the doorway.
A pregnant woman, who was standing outside the public house, was lucky to escape uninjured as 45-year-old local man Leigh Brennan lost control of his vehicle.
Brennan, who received 12-months jail and was banned from driving for two years, was caught on camera speeding through the town at 60mph before crashing into the front of the pub.
Copyright Press Association 2012