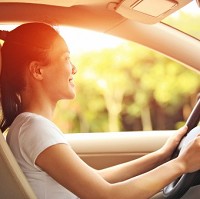 Early morning fog patches could affect drivers across the UK for the rest of the week.
MeteoGroup claims continued high pressure could result in low-lying cloud that impacts on rush hour traffic first thing until Friday.
But apart from that, the forecast remains clear with plenty of sun and warm temperatures. Motorists should therefore have no problem when it comes to journey planning , getting to their destinations with minimum disruption.
Sunny spells
South Wales and the South West will enjoy prolonged sunny spells, while temperatures could rise as high as 20C in parts of the South East - some nine degrees higher than what is normally forecast for the month.
The average UK temperature for April is 11.4C, according to the Met Office , and for England it is 12.4C.
Friday will be the warmest day, particularly in the South East. But it will feel substantially cooler in Scotland and the North heading into Saturday and Sunday, with the prospect of drizzle in parts of the North West.
Most of Northern Ireland, especially the east coast, will enjoy the sunshine, while in Scotland it will be the north east that sees the warmest weather.
The more familiar April showers could make a return across the UK by the weekend though.
Spanish Plume
Sally Webb, a forecaster at MeteoGroup, claims reports of possible thunderstorms due to incoming warm air from the continent, through a something known as the Spanish Plume, are more than likely premature.
She says it is a bit early to be considering a weather phenomenon of this nature.
Instead, the forecaster expects to a continuation of the sunny conditions experienced over the bank holiday weekend.
Sun-seeking motorists covered thousands of miles between Friday and Monday as they enjoyed minibreaks under blue skies, as the highways network was once again inundated with millions of vehicles.
Aboyne in Aberdeenshire recorded the highest temperature anywhere in the UK - 20.7C - on Easter Sunday.
Copyright Press Association 2015