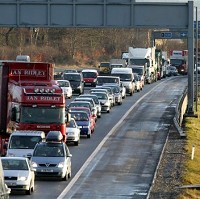 Highways authorities are mulling over changing the ways in which they maintain Scotland's roads.
Derek Mackay, the Scottish Government's minister for transport and islands, says the move is part of efforts to improve services and use resources more efficiently.
Transport Scotland has forked out an extra £2.5 million on trunk road repairs - including resurfacing and pothole patching work - over the last 12 months, taking its total investment in the network during 2014/15 to some £57 million.
And Mr Mackay says the Scottish Government will continue looking at ways to collaborate with local councils on shared services, in a bid to improve highways maintenance, achieve savings, and use resources more efficiently.
The minister says despite the cuts imposed by the UK Government, the Scottish Government is committed to investing in the country's network of roads.
The Scottish Government's move to continue collaborating with Scotland's local councils comes after the National Roads Maintenance Review.
Copyright Press Association 2015