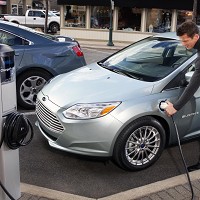 Visitors to a major low carbon exhibition will be the first to test drive Ford's first ever zero-emission family car.
The Focus Electric will be one of the main attractions at the Low Carbon Vehicle Event 2013 (LCV2013), which opens this week at Millbrook Proving Ground in Bedfordshire.
Also on show will be Ford's low-emissions petrol and diesel vehicles while there will be experts on hand to explain the future plans at the car giant.
Transport Minister Norman Baker is set to meet senior Ford technical staff from the company's Dunton Technical Centre, including product development chief Graham Hoare, who will give Ford's view on the future of the internal combustion engine and hybrid power units.
It is likely that Mr Hoare will explain to guests that the most significant overall reductions in carbon emissions will be associated with power units such as Ford's turbo-powered, direct-injection EcoBoost engines.
Mr Hoare, who is head of Ford's Dunton centre, said: "The internal combustion engine has not reached the end of the road. EcoBoost represents the current 'state of the art' in petrol technology and future improvements will deliver further efficiencies and CO2 reductions. In the medium term the internal combustion engine will remain the high-volume propulsion solution, supplemented increasingly by electrification and mild hybridisation."
Copyright Press Association 2013