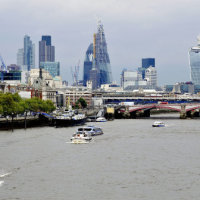 The Mayor of London is reportedly looking into a flying taxi which could transport people across the Thames.
Boris Johnson and others have apparently contacted Frenchman Alain Thebault, who has designed a zero-emissions machine which can float above both ground and water.
Experts believe the electric-powered "SeaBubble" could shove out of the limelight the continuing rows between Uber app operators and traditional London black cabs.
The lightweight, bubble-shaped four-winged vehicle hovers 17cm above the water or ground.
It travels at a maximum speed of 11mph.
Many investors have already started funding the project, which retails at about 30,000 euros (£23,400) a unit.
The idea is for the craft to initially be manned by humans before eventually becoming autonomous.
Mr Thebault's daughters gave him the idea after he sailed to Hawaii from Los Angeles recently.
He told The Local France-based news website that they urged him to create a new zero-emissions cab.
This is because they are fed up with the high level of pollution across the US, London and Paris, he says.
Mr Thebault has already designed and constructed one of the planet's quickest sailboats.
Copyright Press Association 2016. Motoring News articles do not reflect the RAC's views unless clearly stated.