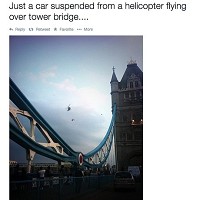 Jaguar surprised people on the banks of the Thames in London on Sunday night by airlifting its latest car into the city by helicopter.
At around 7pm the chopper was seen carrying the Jaguar XE sports saloon underneath it with all its lights on.
Twitter was awash with people querying the purpose of the 'flying car' stunt. Helen Timlin asked if anyone knew why the car was hanging from the helicopter and Rich Stakounis wrote ironically that it was something Londoners tended to see in the city every day.
The truth is that it was all part of Jaguar's spectacular launch of the 'baby' XE, which is expected to cost around £30,000 to own.
The helicopter brought the car into the city ahead of its official debut on Monday, featuring famous British actor Idris Elba, singers Emili SandŽ and Eliza Doolittle, designer Stella McCartney and rockers Kaiser Chiefs.
The British-themed launch follows Jaguar adverts starring British actors that have played villains in blockbuster movies in recent years, Tom Hiddleston, Mark Strong and Sir Ben Kingsley.
Copyright Press Association 2014