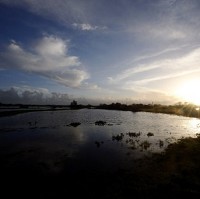 Motorists are being warned that further flooding forecast on Monday could be a taste of things to come.
The Met Office says that drivers should brace themselves for a wetter-than-average winter.
The autumn is ending on a suitably damp note with substantial rainfall spreading across South-West England and areas of Wales.
North-East Scotland has been placed on flood alert. Environment Agency officials say that heavy overnight rainfall could cause local flooding in Dundee, Tayside and Aberdeenshire.
The RAC is urging motorists not to take chances by driving through floods should they appear in their area.
RAC spokesman Simon Williams said: "If you are not 100% certain that a flood is shallow enough to drive through it's better play it safe, turn around and take another route. Flood water can not only cause catastrophic damage to a vehicle it can also pose a risk to life."
For wet weather driving advice visit our advice page.
The Met Office's forecasters say that the three winter months should see wetter-than-normal weather and mild temperatures.
This comes on the back of 2013/14, which brought record rainfall, the 21-inch-plus average rainfall almost trebling the typical eight inches.
Northern parts of Britain can also expect winds reaching maximum speeds of 40mph on Monday. The night could bring fog and freezing temperatures after dark, the Met Office warns.
Copyright Press Association 2014