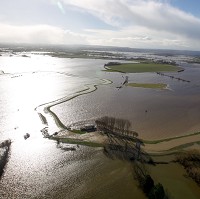 Drivers have been warned over possible flooding on the Somerset Levels following a week of sustained rainfall.
The bad weather, which began on Monday, is expected to carry on until the weekend, although fears of a repeat of February's flooding are thought to be unlikely.
Flooding wreaked havoc in areas of the Levels, affecting homes, businesses, wildlife and roads, with many insurance claims filed as a result.
On October 31, a scheme to widen the River Tone and River Parrett was finally completed with a six-mile section of both rivers being dredged out.
Campaigners have hailed the work, but stressed that longer-term commitment needs to be made to keep dredging the waterways.
Anti-flooding group Flag's Rebecca Horsington said it is "very frustrating" because the river levels are high, and more work needs to be done in terms of long-term commitment.
She said that some people's mental health has been affected by the flooding, and that there is a lack of trust in authorities.
Copyright Press Association 2014